"Not an option."
Pretty much everything I ever needed to know to survive life in the "real world" I learned from my super resourceful single mom. A woman with endless optimism and a pure heart, mother to the world, she was tough and independent by necessity and someone you didn't want to cross when she had a mission. She taught me that being a damsel in distress is so over. You've got to be savvy and self-sufficient. If I didn't want to do something, she'd look at me sternly and say, "Not an option." Because in life, opting out of things you don't like really is not an option.
Losing her was like losing my home, my whole family, and my best friend all in one. I'm still dealing with her passing, and part of that process led to me writing down on scraps of paper, receipts, and notepad files in my computer things she taught me how to do so I'd never forget.
That's why I started this blog – to have it all in one place and to keep her alive through sharing it with others. Unlike search engines and massive how-to websites, we aim for short, simple fixes to the logistical issues you're most likely to run into as you start a new job, family, home, budget, etc. – like Cliff's Notes for life. A friend and intrepid journalist (who was one of my mom's special favorites, a.ka. her "ducklings"), Sara, agreed to take part in my venture.
We welcome your wisdom as well. So please participate, comment, find us on social media, or email us if you'd like to be a guest blogger. And always remember – being a damsel in distress is not as cute as you think it is. DO IT YOURSELF.
-Manda
Authors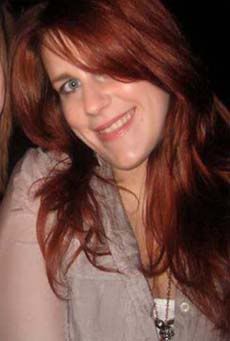 Manda de Zayas is a writer and editor for No More Damsels. Her mother, Patricia, was the inspiration for this blog. Once a singer and dancer, she discovered that people will not give you things for free just 'cuz you seem nice, so she works in PR, where she gets paid to write. She is a music, literature, pop culture, beauty, fashion, and media junkie. She is obsessed with garden gnomes and collects those mini ketchup bottles from room service everywhere she travels. She lives in New Jersey where rents are lower and her pets can freely roam.
Sara Keegan is a writer for No More Damsels. She's a recovering English major from North Jersey. She is the copy editor for a local newspaper in Bergen County. She loves good music, good books, good people, and cheese fries (which are always good). She aspires to be a famous writer of more than just Facebook statuses and Tumblr posts.
For comments, suggestions, or to write a guest blog for our site, email us at nomoredamsels@gmail.com.
To contact Manda personally, email her at ak.dezayas@gmail.com. She is available for freelance writing and is currently looking for an Account Executive position with a public relations firm in the New York metro area.
To contact Sara personally, email her at keegan.sara@gmail.com.